Local radio legend Clark Weber relives the joy in music
SUN CITY – On Thursday, July 26 in Drendel Ballroom from 7-8:30 p.m., residents will be teleported back to their youth with radio legend Clark Weber. He worked at the WLS radio station first as a DJ and then as a talk show host. Later in his career, he ran a syndicated one-minute radio show called, "A Senior Moment."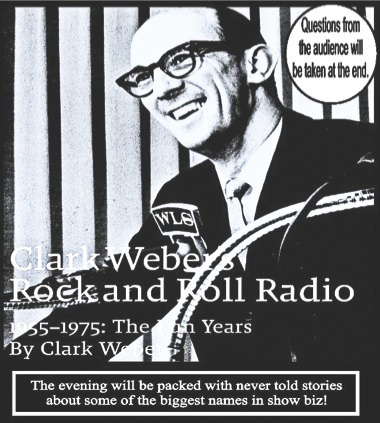 Weber recently wrote a book titled "Rock and Roll Radio: 1955-1975 The Fun Years." The book is Weber's memoir, in which he reveals never-before-told stories of some of the most prominent names in rock and roll during that era.
Weber knew at a very young age that he wanted to work in radio.
"When I was in high school, I had an opportunity to appear on a radio station, just a small appearance, and I came away from that experience with an epiphany at age 17. I suddenly knew what I wanted to do with the rest of my life," Weber said. "I tell my audience that at the tender age of 24, I ran away from home and joined the radio."
Weber started out as a DJ and there learned how to entertain and sell. He focused on rock and roll because of one very important song from his youth.
"I heard a song by Gene Vincent and The Blue Caps called 'Bebop A Lula,' and, man, the lights went on and the bells went off, and I thought that is what I want to play," Weber said.
After disc jockeying for a time, Weber became a talk show host where, as he stated, he learned to listen.
Rock and roll has been a part of Weber's life for a very long time, and over the course of those many years, the music has changed.
"There was a joy to the music in those days. There was a lot of happiness to rock and roll. Today there is a lot of angst, anger, and I think that a lot of the joy has gone out of rock and roll. Of course that audience has changed, and demographically music changes about every ten years. [But], the fact is that there is still joy in music," he said.
Weber has collected his fair share of amazing stories. One of his most cherished memories was when he introduced a 14-year-old kid at McCormick Place.
"He said, 'Introduce me, but don't mention my age 'cause people will think I am too young for rock and roll.' I brought him on stage and said, 'Ladies and gentlemen, here he is with his hit song Fingertips: Part One and Two, Stevie Wonder.' At the time, I listened to him, and I thought that kid is going to go a long way," Weber said.
Recently, Weber has collected his memories and stories in his book: Rock and Roll Radio: 1955-1975 The Fun Years. Weber wrote the book because he wanted to put all of these stories down in posterity. He wrote it primarily for his children and grandchildren so that they would know what he had done in his life.
"I never expected the book to go viral…but it did," said Weber.
Tickets to see Weber are $8 for pre-registration and $13 the day of the event. Residents can pre-register at Prairie Lodge or Meadow View Lodge. They can also purchase tickets online at sccah.com or by calling the customer service desk at 847-515-7650 during regular business hours. General Public tickets will have an additional $5 surcharge.
"I introduce [the audience] to some artists that were frightened to death to step in front of an audience, but they overcame their fear and in the process became very famous, and in some cases really rich. There is still joy in music, and everything you want is on the other side of fear."