Skip the theater and go straight for the DVD rentals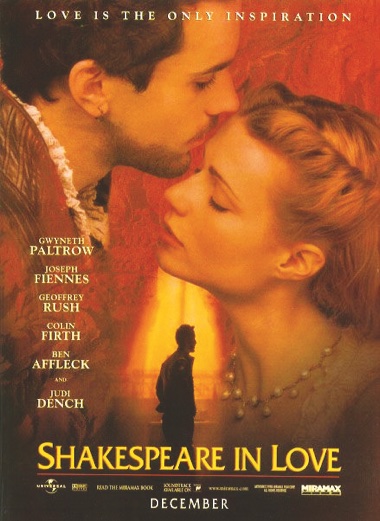 This week's column will offer some rental recommendations. These are all excellent films and if you missed any of them the first time around you might consider checking them out. Several of them have appeared on HBO recently, but they are all available through Netflix or any other source you may use.
Shakespeare in Love.  1998, R rated for adult content. Nominated for thirteen Oscars and winner of seven. The trials and tribulations of William Shakespeare as he pens the play Romeo and Juliet, then attempts to stage it. This is not only a great love story, but a rollicking adventure as well.  An all-star cast including Joseph Fiennnes as Shakespeare, Gwyneth Paltrow as his love interest, Judi Dench as Queen Elizabeth, Geoffrey Rush, Ben Affleck, Colin Firth, Tom Wilkinson, and Martin Clunes. The scenes where the play finally takes place on stage is one for the ages.
Slumdog Millionaire: 2008, R rated for adult content. Nominated for eleven academy awards, winning nine of them. Dev Patel, the outstanding young Indian actor plays Jamal Malik, a young man from the slums of Calcutta. Somehow he manages to become a contestant on the Indian version of the TV hit Millionaire. As he correctly answers question after question, the authorities suspect some form of cheating, how could a young and uneducated one possibly know the answers to the most difficult questions? Efforts to derail or expose him fail repeatedly and the entire nation is glued to their TV sets each week as he returns. The story progresses to a fascinating ending,
Lion: 2016, PG-13. Nominated for six Oscars and countless other awards. This is based on a true story and Dev Patel also stars in this one. He plays a young man from India, separated from his family at age five. Eventually the system finds adoptive parents from Australia, the mother played by Nicole Kidman.  As he reaches young adulthood, the memories of his long lost family continue to haunt him. Using every resource possible he endeavors to locate them, ultimately heading back to India.  This is a classic "looking for a needle in a haystack" story, but will capture your interest right from the beginning.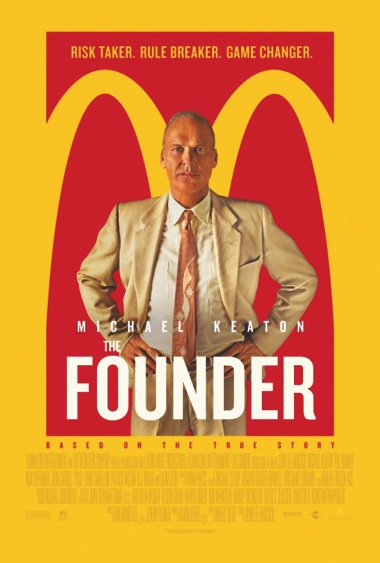 The Founder: 2016 PG-13. This is a fascinating look at the history of McDonalds. It might not sound like a story worth your time, but it most assuredly is. Michael Keaton plays Ray Kroc, the man who built McDonalds into what it is today. We learn there is a great deal more to the story, particularly that Kroc, while revered for his success, was at best an evil genius, leaving a trail of broken lives behind him in his pursuit of fame and wealth.
And from the archives of the past:
A Big Hand for the Little Lady: 1966. Henry Fonda and Joanne Woodward star in this Western comedy about a couple in danger of losing their farm in a high stakes poker game. As the game progresses and the stakes increase, each of the five players suddenly draw an exceptional hand. They are all convinced they have the winning cards and the pot grows larger. The tension is high and Meredith, played by Fonda, has a heart attack, leaving his wife, who has never played poker to sit in for him. The real fun begins when she sits down and asks the other players, "How do you play this game?" There are several delightful sub-plots woven into the story, and you'll have a good time as the story draws to a totally unexpected ending.