One family, nearly a century of combined military service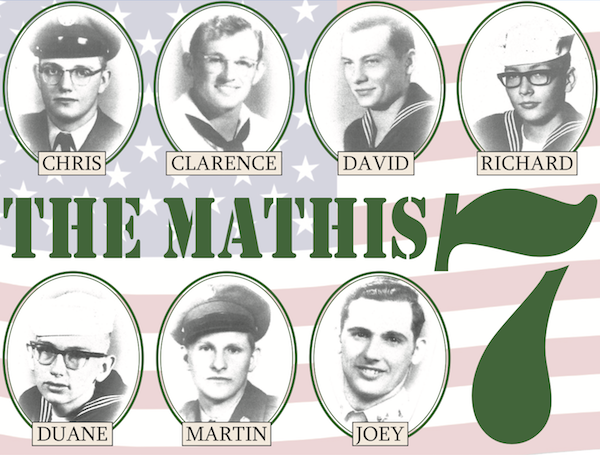 The Mathis family lived in North Dakota.  There were seven boys and four girls. All seven boys enlisted in the U.S. Military service. I hope you will enjoy reading about their  lives  in the service of our country as much as I did writing about it.
CLARENCE: He was the oldest of the seven boys and the first to enlist in the military. Clarence joined the Navy and went to Great lakes, Illinois for his boot camp and training.  After training, he was sent to Portsmouth, VA, where he  served on board the heavy cruiser the USS Newport News CA148. The Newport News was the first fully air-conditioned surface ship in the US Navy and the last all-gun-heavy cruiser in commission in naval history.  He spent most of his  time on the ship in the Mediterranean with the sixth fleet. The Newport News served as the flagship of the Atlantic Fleet for the Cuban Missile Crisis with the USS Leary DDR-879 as her destroyer escort. The two ships stopped the Soviet vessel Labnisk and ordered her away from Cuban waters. When the  Soviet MRBMs were dismantled and removed from Cuba, Newport News assisted in the missile count. Upon cancellation of the quarantine, she returned to her home port of Norfolk, VA.  After serving on the Newport News, Clarence transferred to the USS Cadmus AR-14, which was a amphibian-class repair ship. He completed metalsmith and advanced welding school and was discharged with a ME-2 ranking. Clarence completed four years of active duty and four years of reserve duty. He has 4 sons that followed in his footsteps and also enlisted in the military. Mike served 20 years of active duty in the US Navy,  Myles served four years in the US Air Force, Mathew served four years in the US Air Force, and Monty served  four years in the US Navy.  Their  total service to our country was 40 years of active and reserve service. Clarence is now retired and lives in Cross, SC
JOSEPH (JOEY): The second oldest of the seven Mathis Boys enlisted in the US Army. Joey was a member of the 35th infantry regiment. I remember when two Army officers came to our house in Mott, ND, and gave my mother the bad news that Joey was killed in North Korea. Joey's birthday was July 28, and he was killed July 19 in action while fighting the enemy in North Korea. He was buried with full military honors and gun salute in Sunny Slope cemetery, Mott, ND.   He was able to serve our country for three years prior to his death. Joey received five military metals including the Purple Heart Metal.
MARTIN: The third oldest of the Mathis family to join the service. He took his basic training in Ft. Riley, KS. After basic training he was sent to Germany for several months. While in Germany the army asked for volunteers to go to Korea, so he volunteered. He then volunteered for two tours in Korea. He then was transferred to Camp Hale, CO, where he had temporary duty there, then went back to Berlin, Germany.  After Berlin he was transferred to Camp Thule, Greenland, for two years. From Greenland he was sent to Vietnam and did two tours  in Vietnam.  After returning from Vietnam, he was sent to Ft. Eustis, VA, where he completed his service in the US Army.  Martin served 20 years in the US Army. All 20 years in active duty. He retired with the rank of Sgt. First Class and now lives in Virginia Beach, VA.
CHRIS:  The fourth boy to join the service. Chris enlisted in  the US Air Force and did his boot camp and training at Lakeland AFB, San Antonio, Texas.  After boot camp and training, he was transferred to the Pacific Air Force fleet located in Elmendorf, Alaska. After serving some time at Elmendorf, he was transferred to Ellsworth AFB just outside of Rapid City, SD.  At that base he took up more training and became a mechanic. After serving his time in the Air Force, he then made his home in Rapid City and worked as a flatbed, 18-wheel truck driver. Chris had a heart attack on a trip to New York and passed away at a truck stop in New York. He served four years active duty and four years in the reserves.
DAVID: I was the fifth boy to sign up for  the service. (As you can tell by the picture, I was the best looking and still am, lol!)  My cousin came to me one day, and said, "Dave how about you, me, and Mike join the Navy?" I said no way, but after a few days of persistence, I said ok. So we went to the Navy recruiter in Bismarck, ND, and got signed up. We were told to get our suitcase ready, and we would be put on a train in couple of days and sent to Fargo for our physical. After the physical, the next day, we were told that we would be going to Great Lakes, IL.  After arriving in Great Lakes, I ask, "Where is my cousin?" I was told he and his friend did not pass the physical and were sent back to North Dakota.  Dirty dogs, I am now in the Navy by myself. Upon completion of my boot camp, I was sent to San Diego where I took my training. After training I was transferred to the USS Brown DD546, a destroyer and headed out to Pearl Harbor, and that is where I spent my next four years. My rank was SK2. I was a supply officer in charge of ordering all the commissary for the ship and all the electronics we needed. The USS Brown was decommissioned and given to the Greek Navy. When I was discharged, I applied and was accepted at the National School of Aeronautics in Kansas City, MO. From there I was transferred to O'Hare field, Chicago, and have been in this area ever since. I am now retired and live in Sun City, Huntley.  I served four years in active duty and four years in Naval Reserve.
DUANE: The sixth Mathis to join the service. Duane went from Bismarck, ND, to Great Lakes, IL, where he did his naval boot camp.  Upon completion he was transferred to the  U.S. Fleet Anti-Air Warfare Training Center located in Damn Neck VA.  Duane took his training as a Personnelman and obtained a rank of  Petty Officer Third Class. He then was transferred to the USS Charles Adams DDG. It was the lead ship of her class of guided missile destroyers of the US Navy and home base was Charleston, SC.  While on board the USS Adams, he made two Mediterranean cruises and was the first US warship to sail up the Kehl Canal in Strasbourf, France, since WWII.
The USS Adams was decommissioned, and as of 2015, the owner of the Jacksonville Jaguars, Shad Khan, proposed to develop the riverfront, which would include a permanent location for the USS Adams. Duane served four years active duty and four years reserve in the  Navy. He is now retired and made his home in Billings, MT.
RICHARD: The Seventh  Mathis boy to enlist in the service. He was the lucky one and did not have to do his boot camp in the cold weather of the Great Lakes, but did his in San Diego, CA. Upon completion of his boot camp, he was sent to Norfolk, VA, where he did his training in communications and became a communications yeoman. Upon completion of his training, he was then sent to Boston, MA, where he spent his next three years. He was then transferred to the USS Pocono AGC-16, a flag and communications ship stationed in Damn Neck, VA. He was on board the USS Pocono and did a Mediterranean cruise to Spain, Greece, and back to VA.  The USS Pocono was an Adirondack-class, amphibious-force command ship named after a range of mountains in Eastern PA. She was designed as an amphibious-force flagship, a floating command post with advanced communications equipment and extensive combat information to be used by  the amphibious forces commander and leading force during large-scale operations. Richard served four years active duty and four years reserve duty in the Navy. He obtained a rank of communications Petty Officer. He is now retired and made his home in St. George, Utah.
Altogether, the Mathis seven served 63 years for our country, including all active and reserve duty, along with 35 more active duty years from the four sons of Clarence.
Thank you so much for reading our story. I hope everyone shows a little more respect for all the service men and women that have served our great country, The United States of America.