A Ghost Story – hauntingly bad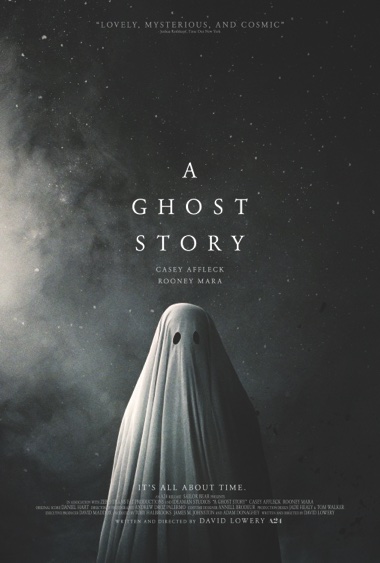 My original choice for this week's column was the compelling documentary Detroit, the story about the dreadful 1967 riots that took place in the city where I was born and raised. I was there when they happened, and for a short time I was in the middle of it all, but lived to tell about it. At the last minute I decided I didn't want to experience it again.
Bad choice Tom.
As those who read this column with any degree of regularity know, I often pick the wrong film to write about. This one probably takes the cake. I was reading a synopsis of the Sundance film festival where this movie premiered, and the pundits attending that affair suggested this might be the best movie of the year. That was followed by rave reviews from many of the highly intellectual and well paid movie critics scattered here and there. Not being highly intellectual or well paid for that matter, I am free to discredit a film nobody has ever heard of before or is likely to hear about, despite the experts opinions.
A Ghost Story
Entertainment Rating: Zero stars
Rating: R, one profanity I can recall, disturbing images
Possible Oscar Nominations: Least entertaining movie of the year.
Casey Afleck, this year's Oscar winner and Rooney Mara are a thirty-something couple. Shortly after the story begins he is killed in an auto accident. Not long after he enters the paranormal world still wearing the sheet he was covered with in the morgue (see picture). He walks out of the room and down the hall. As he approaches the end of that hall, a bright light appears, obviously inviting him into the afterworld, he chooses to turn left avoiding the light, a really bad decision as it turns out, since he is stuck under that sheet for as long as he wanders.
He manages to find his way back to his house and finds himself imprisoned there for decades. His wife eventually leaves and he stays as other families come and go. The bulk of the movie is spent watching the ghost stand around that house. I can't imagine that Casey Afleck is actually under that sheet for the entire film. If that's the case then his commitment to the filmmaker wasn't more than a few minutes, his time on screen, mumbling his lines so no one could understand them. Rooney Mara has much more screen time, but with no one to talk to now that she is alone. The screen is filled with endless moments of no dialogue, no background music, and sheer boredom.
The story drags on endlessly, the elephant always in the center of the picture. It mercifully ended, and I could find no redeeming value of any kind, although some highly intellectual folks might. If you are one of them and see this disaster, please explain it to me.