Get ready to vote
4 open seats, 10 candidates
Suddenly, volunteerism is reviving in Sun City.
Ten candidates have applied for four positions on the 2018-2020 Sun City board of directors term in this fall's election.  This is the highest number of candidates in recent years, possibly ever. A strong promotional "be a volunteer" recruiting effort by the association staff in recent months was a big reason for the strong response.
The top four vote-getters in this fall's balloting will be elected for two-year terms on the board beginning January 1. Ballots will be mailed to all voting members (one per household) by October 1. Completed ballots must be returned (mail only) to the election service by October 16.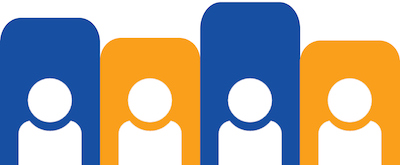 A candidate meet and greet was held August 7 in Prairie Lodge. A candidate question-answer forum will be held at 7 p.m. on Monday, September 11 in Drendel Hall.
Following are informational statements on each of the candidates, in the order in which their names will appear on the ballot:
Vito Benigno – has 20 years experience in private industry, 12 years government service, and two years non-profit service, managing budgets ranging from $1.7 million to $8 million. Responsible for collection, documentation and reporting of revenue. In Sun City, he is currently chairperson of the Neighborhood Advisory Council and a neighborhood rep, is vice president of Neighborhood Watch, vice president of the Celtic Club, and is active in the Civics Committee, current events, symposium, and softball clubs.
Bob Wainscott – One of two board incumbents seeking re-election.  His career spans 35 years as a professional actuary in the financial services industry. He served 20 years as a senior executive for a client consulting firm; participated in the management of a $70 million annual revenue budget. He was a member of the CAM Finance Advisory Committee for four years and chair for 1/1/2 years, and chair of the Insurance Sub-Committee for three years.
Steve Bytnar – A board incumbent seeking re-election. Has assisted hundreds of Sun City residents save thousands of dollars in property taxes by helping them file tax assessment appeals. Is the producer of the assessment model reports that are posted on the Special Interest Groups Sun City website for the Property Tax Action Group (PTAG). He was vice chair of the Communications IT Print Committee and is a member of the Computer Club, Woodchucks, and Cue Club. In his career, he served as computer maintenance manager for the Chicago Tribune printing plant, and was a senior consultant and network engineer at CNA Insurance and Cardinal Health.
Russ Howard – Currently chair of the Facilities Advisory Committee, past president of the Pickleball Club, past member of the Charter Club Presidents Council, and a member of the Theatre Group, and Bridge, Softball, Bocce, and Golf Clubs.  He is a former Village of Glendale Heights trustee and a leader of the Illinois Governor's Home Town designation for Glendale Heights.  He was a national account/sales manager for 42 years in the Data/Telecommunications and Insurance industries, and a past president of the Insurance Loss Control Association.  He also served as a U.S. Navy air traffic controller.
Rick Sperando – A relatively new member of the community, he is a member of the Woodchucks and Anglers Club. In the Huntley community, he is a member of the St. Mary Church Finance Council, and is a Centegra Hospital volunteer. He was a business owner for 18 years, managing million dollar budgets, and served as a trade school instructor and motivational speaker in the trades industry.
Don Kay – has been a member of the Modifications Committee for the past three years. Served as committee recorder one year and as chairperson the last two years. Developed a project to provide information to the residents on the process of applying for a modification. Worked 33 years in the consumer packaged goods industry. Started as a sales rep and eventually rose to director of operations and Logistics.
Ken Andersen – a past member of the Sun City board. Past president of the Sun City Neighborhood Watch, a N-21 rep, and a past president of two condominium associations, as well as an elected alderman for the City of Rolling Meadows. Career includes regional operations manager and vice president of product development and aftermarket support for a major equipment manufacturer.
Sandra Portincaso – has served as recorder for the Charter Club President's Council for the past three years, and participated in the committee to revise and update the Charter Club Manual. She is a University of Illinois Master Gardner since 2000 in both Ogle and Kane counties. While living in Ogle County, was a member of the County Fair Board. Also is a registered volunteer at Huntley School District 158. After working for 12 years as a certified dental assistant and office manager, she worked 18 years as a sales manager in the trade show management field.
Dennis Watts – a senior tax consultant with extensive community volunteer involvement, Watts has been a neighborhood chairman and a computer instructor in Sun City.  He earned a bachelor's degree at Loyola University in Chicago, has been a board member in Schaumburg School District 54, President of a PTA, president of a high school booster club, a Jaycee of the Year, a leader in an Indian Guide Nation, and a Little League soccer coach.
Gene Rhodes – A resident of Sun City for 16 years, he is a past CAM board member and is a member of Civics Committee, a trip coordinator for Vtec, and a member and past president of Prairie Singers. Was a business owner for 40 years.