Battle of the Sexes – tennis match or soap opera?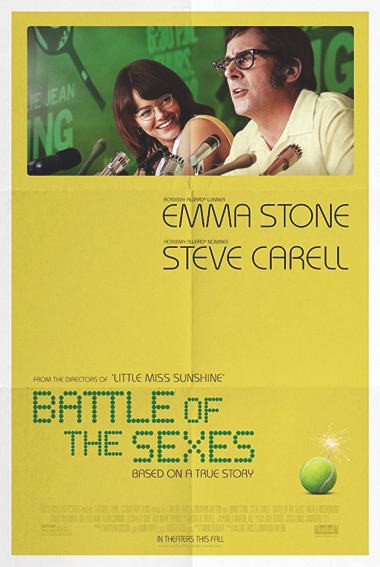 The evening I saw this was a first for me in a number of ways. 1) First time I ever sat through a movie as the only person in the theatre. 2) First time I ever phoned anyone during a film. 3) First time I ever watched a football game while the movie was playing, (Bears-Packers), which actually many of you would prefer to forget. 4) First time I ever took my antacids during the movie rather than wait until I got home.
If you are old enough to live in Sun City, you are old enough to remember the Billie Jean King-Bobbie Riggs tennis match (1973). Whether you were interested or not, of course is something else. The fact is this story dominated the news for some time, as ageing tennis great Bobbie Riggs, said openly that he could beat the best female tennis player alive, namely Billie Jean King. The match was arranged and you (should) know the result.
Emma Stone and Steve Carell play the combatants. Both do an outstanding job. Carell is a veteran in playing a variety of roles, and seems comfortable whatever character he is portraying, this one no exception. Emma Stone has matured considerably over the past several years, witness her Oscar nominated performances in Birdman and La La Land. I can't imagine anyone portraying Billie Jean better than Emma, who gained twenty pounds for this part, and no doubt, took some tennis lessons along the way.
Battle of the Sexes
Entertainment Rating: ★★
Rating: PG-13, no profanity, several lesbian love scenes
Possible Oscar Nominations: None
The story churns its way through the months leading up to the match, exposing Bobby Riggs for the degenerate gambler he was, and Billie Jean as she discovers she is falling in love with another woman, with some too realistic love scenes between them. At times I felt like I was watching a TV soap opera. (Not that I've actually ever seen one.) In all fairness, the story also delves deeply into Billy Jean's (successful) movement to establish a women's tennis tour and becoming a leader in the women's movement.
When the match finally arrives, the story takes a big step forward. I am not a tennis fan by any means, but watching the battle on court was great filmmaking. There were 30,000 screaming fans in the Houston Astrodome, and they actually patched in Howard Cosell's commentary and visuals as he described the match to the television audience.
On the way out the box office manager confirmed for me that they had sold one ticket for both opening night showings. I didn't have the heart to ask for a refund.
Stronger – one glaring weakness
This is a stunning movie, exceptional acting all around, beautifully filmed and edited and a true story to boot. Jake Gyllenahall plays Jeff Bauman, who was seriously wounded in the Boston Marathon bombing. He lost both legs in the explosion as he was standing very near the first bomb when it went off. The movie documents his extraordinary battle to recover, dealing with his life without lower limbs, and eventually through a variety of issues, attempting to recover his self- esteem and a live a life worth living. Gyllenhall gives an incomparable performance in what had to be a very difficult role to play.
Stronger
Entertainment Rating: (see comments)
Rating: R, (see comments)
Possible Oscar Nominations: Best Movie, David Gordon Green, Director, Best Actor, Jake Gyllenhall, Best Actress, Tatiana Maslany, Best Supporting Actress, Miranda Richardson
His supporting cast is also special. Tatiana Maslany play's Bauman's girlfriend and Miranda Richardson his mother, they bring their special talents to the forefront, both giving Oscar level performances. The remainder of the supporting cast are all outstanding as well. The movie is certainly worthy of a 3-4 star rating, as others are already giving it.
There is however, an "ELEPHANT in the room." I call it "Bostoneese." Any movie I can recall seeing over the past years, that is about blue collar, middle to lower middle class Bostonians, and /or gangsters from that city, finds the use of "gutter language" a staple. The one exception I can recall is Spotlight. Stronger takes the use of this style of dialogue and pushes it to a new level. While I admired the acting and the blue collar gritty performances, sitting through this slew of cursing, virtually every sentence, ruined an otherwise great movie. As they say "we report, you decide."