Food drive celebrates 10 years of giving
SUN CITY – Ten years ago, Laurie Larkin got a phone call from her friend, Annalee Boles. Larkin recalls that call: "Annalee just asked me – 'do you want to help me organize a food drive?' And I said, Sure." That is how Sharing our Blessings Food Drive began.
Boles said, "I saw that the Grafton Food Panty here in town recognized the needs of our community and I wanted to help."
The two women decided that they wanted to do something to help and embarked on their mission.
"We were thrilled with the results of our first year," said Boles.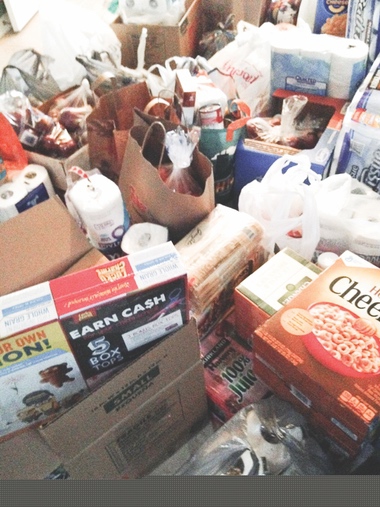 She added, "After that first year we decided that Sharing Our Blessings would make the Food Drive our annual project."
Larkin explained, "We try to get the word out, we send letters to neighborhood reps and Lifestyles." She added, "Neighborhood 3 had a fundraiser and brought us all their donations."
Boles relayed that "there are 170 families in our community that need help with the bare necessities."
The Grafton Food Pantry provides for these needs. Once a month, the families receive what they need from the pantry. The pantry is not government-funded and is totally supported by the generosity of the people. The pantry has the buying power of $8 at the Northern Illinois Food Bank for every donated dollar. It helps more than 71,500 people each week in the Village of Huntley, Village of Lakewood, and portions of Lake in the Hills, Crystal Lake, and Algonquin. 1 in 7 Americans need help in fighting hunger.
Larkin said, "A $30 donation can feed a family of 8 for Thanksgiving or Christmas. Last year we raised $1,640 in cash donations."
This year marks the 10th Annual Sharing Our Blessings Food Drive, taking place on November 13-19. Items that are most needed are gas cards, gift cards, toiletries, paper products, dish and bath soaps, cleaning products, baking supplies, coffee, pasta sauce, oil, peanut butter and jelly, crackers, hot and cold cereal, socks and underwear, and of course, money, which goes the farthest.
Boyle added, "The Grafton Food Pantry has a drastic need for volunteers ages 16 and older to unload and sort deliveries, stock shelves and assist in any way. We ask everyone to consider donating a few hours every week to help."
Boyle specified that "today, more than 10 years ago, the need is more for families."
Larkin, a retired nurse showed off their new sign.
"We had the same sign for 10 years. Our sign was duct taped, super glued, nailed, screwed together," she said.
Boyle conveyed that at a neighborhood fundraiser, "one of the residents felt sorry for the state of their sign. He did not offer but stated that he would make us a new sign."
Larkin said, "We are proud of this baby," referring to the sign.
Donations to the Sharing our Blessing Food Drive start November 13 and run through the 19. Donations can be dropped off at 14090 Lavender Street in Sun City.
"We are hoping that we can eventually have a drop box at the Lodge," Boyle added. "But for now, everything can be dropped off at my house."