Suburbicon: What goes around comes around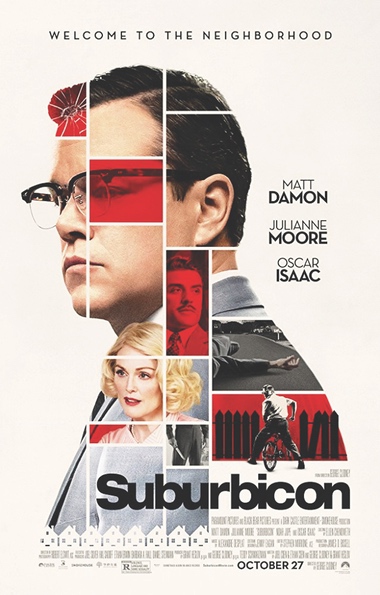 American filmmakers the Coen brothers have a long list of movies they have written, and in some cases directed. They have won and/or been nominated for a number of Oscars and may be the best known team of writers in Hollywood. I have not seen all of their films by any stretch, but those I have left a lasting impression. There is one thing common to all of their stories; they are "out of the box." The three I remember most vividly are Fargo, No Country for Old Men and Bridge of Spies. I have added Suburbicon to that list.
What stands out the most in their films are the bad guys. Boy, are they bad. Javiar Bardem's portrayal of Anton Chigurh in No Country for Old Men may rank as the nastiest villain ever. And of course Steve Buscemi's use of a wood chipper in Fargo is unequaled anywhere. In Suburbicon the Coen's take it one step further; virtually everybody in the movie, save a six-year-old boy, are nasty, self-centered, and have murderous intent. Quite a formula for what appears to be a peaceful middle American community.
George Clooney directed and Matt Damon and Julianne Moore star in this highly unusual look at a white, suburban American community in the early 1950s. I mention the "white" population because one of the sub-plots of the story revolves around an African American couple who moves into the neighborhood, setting off a sequence of events that we really don't want to remember.
Suburbicon
Entertainment Rating: ★★
Rating: R: Profanity throughout, violence and murder
Possible Oscar Nominations: None
The primary story revolves around Gardner Lodge, played by Damon, his wife, sister in law and their six year old son. Early on they are victims of a home invasion. The sequence of events during that invasion leaves some unanswered questions, which ever so slowly come to light. As the plot unfolds, and the viewer becomes aware of what's happening, the story takes a number of unexpected twists and turns, revealing the evil, malice, and greed in everyone's heart, accented by the riots perpetrated by the white citizens against the quiet, unassuming African American family.
The story moves slowly from the beginning, but as it picks up steam things begin to escalate and one by one the evil-doers come face to face with their deeds, with little or no time for remorse. There are two memorable moments as the story heads to a conclusion; one is Matt Damon's use of his son's bicycle and a peanut butter and jelly sandwich. How ironic can it get? That of course is for you to decide.
There were eight people in the theater the night I saw this. We gathered around at the end to discuss, and everyone gave it "thumbs down." This is a disturbing story but also highly creative and filled with irony from every direction. You will, however, love little Noah Jupe, who played the six year old.