Murder on the Orient Express – derailed by the accent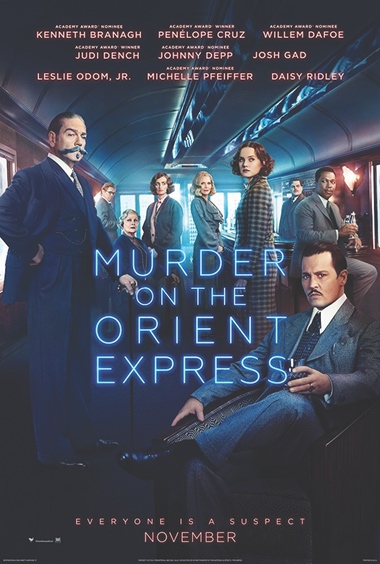 Before reviewing The Orient Express, I wanted to give you a "heads up" on an outstanding film we rented through Netflix. It's called August Rush (2007, P.G.). If you haven't seen it and you like four star movies, this is for you. If you've seen the new hit TV show, The Good Doctor, then you know who Freddie Highmore is. He's ten years younger in the film, but every bit as talented then as he is now. He plays a young boy separated from his parents at birth, and through the magic of some extraordinary music, he ultimately draws his family together.  Everyone we know who has seen this one raves about it. This is as good as, or better, than any movie I have seen so far this year. I'm not in the habit of instructing readers to do anything, until now: SEE IT, you will be glad you did.
It may surprise you to learn that Agatha Christie is the best- selling author of all time. Her novels have sold over two billion copies so far, and still going strong. Her books have been translated into more languages than any others, save the Bible and the works of Shakespeare. Her stage play, The Mousetrap, has been running for 65 years at the St. Martins Theatre in London; over 26,500 performances to date. My wife and I saw it over ten years ago. Prior to the curtain rising, an announcement is made: "PLEASE don't give away the ending after leaving the theatre." And therein lies Agatha's magic, her stories always have a twist at the end, catching you off guard, and Murder on the Orient Express is no exception.
Murder on the Orient Express
Entertainment Rating: ★★
Rating: PG-13, two profanities, adult content
Possible Oscar Nominations: None
Miss Christie's most famous character of course, is the legendary Belgian detective, Hercule Poirot. Poirot proclaims himself the greatest detective in the world (Sherlock Holmes notwithstanding), and explains to one interested party how he is able to solve crimes no one else can. "I see the world as it should be," he said, " so I can always tell when something is awry."
Kenneth Branagh wears the mantle of the great one, incorporating Poirot's two most outstanding features, his mustache and his accent. I can live with the mustache, as abhorrent as it is, but the accent is a killer. Branagh is the fourth actor I have seen portray Poirot, and each of them to a fault, mangle the Belgian/ French accent to the point where it completely disrupts the story, (i.e.) you can't understand half of what he says. And, since his character has at least half the lines in the script, well, you can take it from there.
On the other side of the coin there is an all-star cast, most of which speak without mangled accents and they can be understood.  As you most likely know, Poirot boards the Orient Express in Istanbul, and as the train works its way through Eastern Europe, headed for Paris, someone is murdered in a compartment only a few steps from the detective's. He immediately swings into action and after a short time has narrowed the list of suspects down to a dozen or so, and the next hour and a half we watch as he interrogates each of them. At times it is drawn out and almost boring as he works his way back and forth through the information he has gleaned. And, at the end it is almost anti- climactic when we learn who was responsible.
The movie has some great cinematography and the elegant interior of the train itself is something to behold. Alas, the story has too many drawn out dull moments, and the aforementioned accent issues take too much away. My recommendation: read the book, no mustache or accents to mar your enjoyment.
Comment on This Story