My, myself, and I and some guy named Scott Rhuin
Have I ever told you I have an alter-ego? No? That's probably because alter-egos are not something people usually advertise about themselves. Of course, my alter-ego isn't really an alter-ego. At night, after I put away my Sun Day work, I don't don a cape and mask and bodysuit and hit the streets of Huntley fighting crime in the name of vigilante justice. I don't have a split-personality disorder. For better or worse, my actions are all my own (sometimes I wish they weren't). I do, however, have a pseudonym, and his name is Scott Rhuin.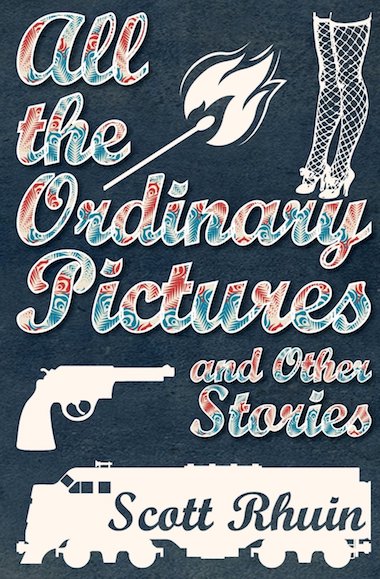 Scott Rhuin is the name I write fiction under. After trying on numerous other pseudonyms over the years, I chose the name Scott Rhuin (pronounced ruin) a few years ago for reasons both calculated and not. First, the name Scott Rhuin is simply cool. And who doesn't want to be "cool" sometimes—however of a fine line there is between cool and stupid? (It's kind of incredible how easily one slips into the other.) But if done right, cool is cool. Second, Scott Rhuin is easy to pronounce. You might say the silent H would throw some people off, but Rhuin is way easier to pronounced than La Pelusa. A name that, I'm guessing, about 98% of you who've not heard it said aloud will mispronounce. And when trying to market a project or a product, an easy-to-pronounce name that maybe sounds a little cool does wonders.
I'm telling you about Scott Rhuin now because he's currently (and shamelessly) promoting his collection of short stories called All the Ordinary Pictures and Other Stories, available for sale in print and digitally on Amazon and at most major book retailers.
The stories that appear in ATOP and OS were written over a course of about ten years. These stories are a breakout collection of fiction that courses through the lives of subtle yet indelible characters meeting extraordinary circumstances, like teenager Sam Lewiston, who, in the title story "All the Ordinary Pictures," mistakenly discovers her father's true profession is that of an erotic photographer and not the local photojournalist she always admired. The discovery sends Sam into a tailspin of distrust and heartache that lasts a decade before she meets a color-blind artist who shows her just how bright trust can be.
With striking plots and daring imagination, All the Ordinary Pictures and Other Stories brings readers into the tangled hearts and tested relationships of broken people trying for new beginnings…and sometimes failing. They are the stories of ordinary people navigating the extraordinary instances of love, death, regret, murder, redemption, and hope. Mostly hope.
Despite that ATOP and OS features fiction stories, there is a direct correlation to the essence of the work we do through the Sun Day: which is featuring ordinary people meeting – or more aptly – doing the extraordinary, making fact way cooler and more interesting than fiction. But fiction is still interesting and Scott Rhuin does it pretty well, so give his collection of short stories a chance and pick up a copy at either of the links below.
Scott and I are pretty close, and he gave me an advance copy. Whether you're looking for a family drama, a love story, a thriller, or something inspirational, I promise there's a story in All the Ordinary Pictures and Other Stories you'll enjoy.
– To purchase in digital format (ebook/$2.99), click here.
– To purchase in print format (paperback/$9.99), click here.
Comment on This Story