Resident Reporter: March 24, 2011
Friends in Sun City West, AZ
I thought that you (the Sun Day) might be interested in what some of us are doing in Sun City West, AZ, while our friends in Sun City Huntley are shoveling themselves out and looking for sun.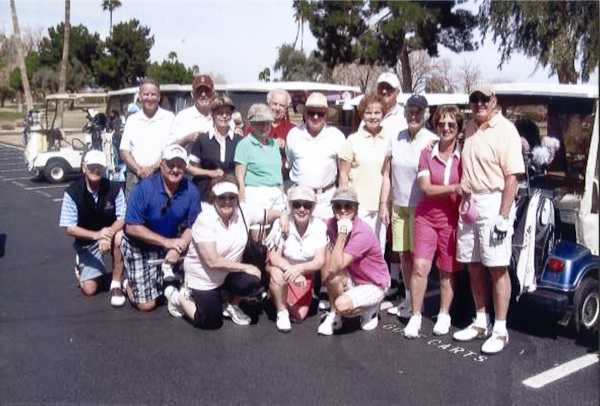 We have 10 couples from Sun City Huntley that are spending their winter months in SUNNY Sun City West & Sun City Grand Arizona. We as a group get together every other weekend and play couples golf. During the week the men have a tendency to play on Tuesday and Thursday to keep their game tuned up for the return to Huntley and our local Men's golf leagues.
Pictured is one of the events we had for couples golf. Tom & Nonie Parenteau won the prize for fewest puts per couple.
Just thought the neighbors might be interested in our activities in the Southwest. 
Cutline: Top row: Marty Keany, Bill DeGiulio, Judy DeGiulio, Jean Sierzega, Roman Sierzega, Dom Martelli, Dottie Whitesell, Bob Whitesell, Nonie Parenteau, Sandy Johnson, Bill Froehlich.
Bottom row: Tom Parenteau, Jim Johnson, Sandy Keany, Kathy Martelli, and our cheerleader Bonniejean Froehlich.
Jim Johnson
Sun City West, AZ
---
Residents get back from the outback
Good Day Mate and Kiora!
Residents of Sun City Huntley and Sun City Carolina Springs in Ft. Mill South Carolina recently returned home from Australia and New Zealand.  The group was lead by Carolyn Cuttle, N.28 resident and travel agent with Cary Travel Express in Cary.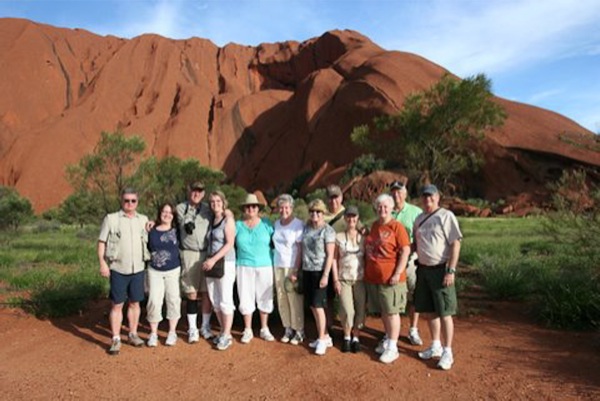 The group landed in Melbourne and watched the fairy penguins emerge from the sea on their nightly pilgrimage home.  Traveling by air, the group visited Alice Springs to attend the School of the Air, which teaches children in the Outback their lessons on-line with computers.  There was an Outback dinner and a morning spent learning about the Aborigine people.  Ayers Rock was one of the highlights of the trip.  We toasted Ayers Rock at sunset with Mimosas and some guests rode camels to watch the sunrise over The Rock!  Cairns had just recovered from a cyclone (hurricane that spins in the other direction) but the group was able to visit Green Island near the Great Barrier Reef while others snorkeled at the Reef.  We spent three days in Sydney and met some adorable koala bears and toured the Sydney Opera House.
The earthquake in Christchurch altered some travel plans but the group was able to visit Franz Joseph and Fox Glaciers.  We spent three days in Queenstown visiting Milford Sound on a clear day with hundreds of waterfalls.  Some of the participants did the Shotover River Jet boat.  One on the tour even did a bungee jump off the bridge!  We visited Mt. Cook where Edmund Hillary learned to climb mountains.  Some of the group even took a flight seeing trip to land on a nearby glacier.  Again the group was able to watch sunset and sunrise on Mt. Cook, a glorious site.
The group is home now and adjusting to the 13 hour time change!  Carolyn Cuttle continues to plan group tours. The next tour will be in September, doing a river cruise on the Enchanting Danube with Uniworld.  If you would like more information, please call 847-639-3300 and ask for Carolyn.
Carolyn Cuttle
Neighborhood 28