Potential retail development edges closer to Sun City borders
Additional details of a proposed large retail development immediately south of two Sun City neighborhoods are starting to emerge.
Horizon Group Properties, formerly headquartered in Huntley but now working out of Rosemont near Chicago, is proposing to construct a multi-acre retail development on the west side of Route 47 between Dhamer Drive and the south edge of Neighborhood 32B in Sun City. This neighborhood extends south of Del Webb Boulevard near the main entrance to the community.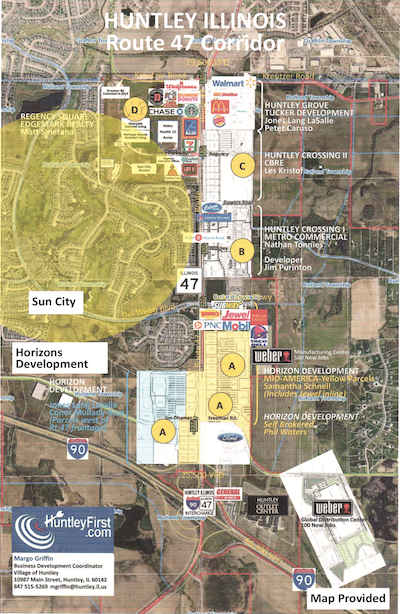 A golf course was reportedly envisioned for this area at the time Del Webb came to Huntley in the late '90s. This is the first time a private development has proposed to be located so close to a Sun City neighborhood.
Horizon has been discussing this project informally with Village of Huntley officials for about a year. More detail about the project emerged at a February 8 meeting between Neighborhoods 32B and 32A residents and Phil Waters, project director for Horizon. The meeting was called by Horizon to begin a plan of communication to Sun City residents. According to 32B rep Carol Bletz, more than 140 residents attended the meeting, which was held in the Huntley Park District's Cosman Center.
Many approvals by multiple federal and state agencies, in addition to the Village of Huntley, are needed before this project can break any ground. The main reason for this is that Horizon wants to relocate Eakin Creek, which flows diagonally through the proposed project site, on a generally northwesterly direction from the northwest corner of the intersection of Dhamer and Route 47. Horizon wants to redirect Eakin straight north along the west side of Route 47 and then turn it westward along the south edge of the berm behind Sun City Neighborhood 32B.
Approvals would also be required from the Illinois Department of Natural Resources (DNR), and possibly the state's Environmental Protection Agency (EPA), in addition to the village. Bletz told the Sun Day that the Army Corps of Engineers' response would come 6-12 months from now.
The retail project would include a large big box retail building with 926 parking spaces, three smaller retail buildings with about 50 parking spaces each, three restaurants with an average of 58 parking spaces each, a traffic signal on Route 47 where the main entrance to the site would be located, and a three-acre naturalized storm water management facility (detention basin), on the north side of the project site.
Bletz said she is neutral on the development now.
"I don't live immediately next to the site, so I wouldn't be affected as much by it as much as many of our other residents would," she said. "If the proposed mitigation and improvement of the creek near my home would happen, it would be nice, but I know that many 32B residents living right on the berm on the south end are opposed."
One such resident is Ken Pietranek, whose home is on the south side of Windy Prairie Drive. His house is located on the north side of the berm that separates his lot from the Horizon property.
"I don't look forward to this now," he said. "This is going to bring noise, lights, and large trucks very close to our homes. There's going to be a road coming into the area right next to our homes, and lots more traffic. I believe my opinions are shared by everyone living on the south side of Windy Prairie. We are going to hear everything that goes on in that development."
He said he and his wife, Cindy, shared this view with Waters at the February 8 meeting.
"We hope the village gives us a chance to talk when they consider this project, even if it is approved by the Corps of Engineers and other agencies."
Resident views probably vary according to their distance from the event. Dave Bachmann, an assistant rep in Neighborhood 32B, said he did not attend the February 8 meeting, and he said he hasn't heard very much about the plans.
"We live on a street behind Windy Prairie, so we're farther away," he said.
Whatever its final form, this project is likely to generate controversy in the next year or more as it winds its way through the review process.