Not much treasure in Pirates 5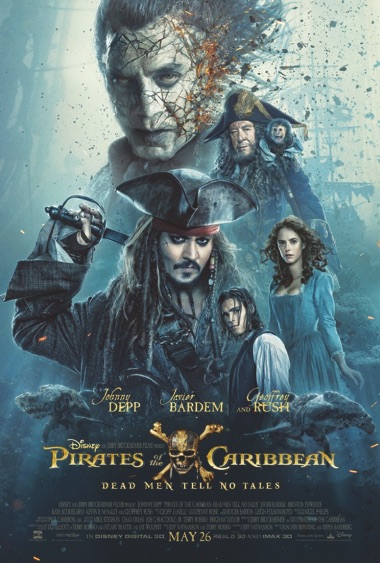 Tough choices (sometimes) abound when trying to pick a movie worth seeing and writing about. You, dear reader, stay home until there is a film you want to see. I don't have that option, as my column deadline comes every two weeks, like it or not. I worked hard to narrow the choices and ended up with two possible picks. One was the new Alien movie. Since I still haven't recovered from the horrors of the original one (1977) by far the scariest movie I have ever seen, I moved on to the 4th sequel of Pirates of the Caribbean. I did see the original (2003) and enjoyed it. I was further motivated by an internet post I read, which gave nine carefully laid out reasons to see this film.  One of the reasons was, "if you saw the first one and liked it, you will love this one."
After seeing it, I can give you ninety-nine reasons not to go. I will admit there were a number of folks in the theater who were obviously enjoying it. The previous editions were famous for their "tongue-in-cheek" approach to the never-ending action, regardless of the level of seriousness, always looking for a laugh. This sequel is no exception, there were a cluster of folks laughing it up at the appropriate times, and when the movie was over a smattering of applause. I can (almost) guarantee you none of them were from Sun City.
Pirates of the Caribbean: Dead Men Tell No Tales
Entertainment Rating: ★1/2
Rating: PG-13: Lots of violence, destruction and death, no profanity
Possible Oscar Nominations: None
If you've never seen one of these this is not the time to start. Many of the characters are carried over from the previous stories, trying to figure out who and what will stretch your imagination too far. Johnny Depp stars again as Captain Jack Sparrow, the (usually) drunken pirate who is being chased around the seas by everyone he has ever crossed, and there are plenty of them. With one or two possible exceptions the acting is terrible, the dialogue almost meaningless, and the story line minimal. Even the background music is overbearing and at times tends to drown out the discourse. There is, of course, plenty of action and the special effects are almost too much.
If you do decide to try this one on for size, and go without grandchildren or at least a millennial or two, you will NEED MY PERMISSION. You'll be much better off walking the track at the fitness center, which I do most mornings.
A further note of caution. I went into the heart of the city to see Paris can Wait, starring Diane Lane, one of my favorite actresses. One write up suggested it was reminiscent of Under the Tuscan Sun, a solid four-star movie also starring Diane Lane. The only redeeming value in this disaster is the title. Yes, Paris can wait, hopefully long enough to avoid the suburban theatres, where it hasn't made an appearance yet, and with any luck won't. We walked out after one tedious hour of nothingness, and if you do see it, don't tell me the ending, I could care less.