Logan Lucky – not today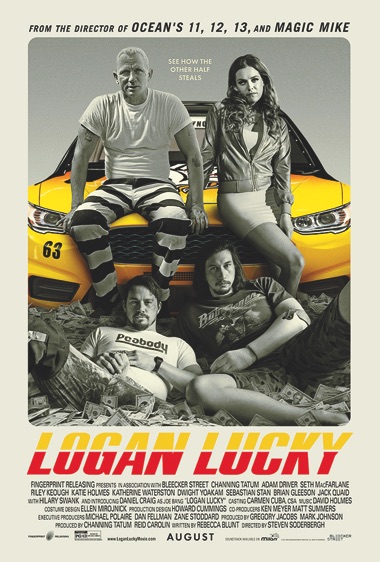 I'm still debating whether it was a bigger mistake paying to see this movie, or laying out $8.09 for a bag of popcorn, half of which I left behind. So, it was a $20 evening, and I'll no doubt take a long hard look in the mirror when I get up, looking for the "stupid" lines in my face.
Not even a reasonably talented cast, including Channing Tatum, Seth MacFarlane, Katie Holmes, Dwight Yoakam, Hilary Swank, and Daniel Craig, could muster enough enthusiasm in their roles to make this worthwhile. A reasonably interesting plot might have worked had the players even looked like they cared. There were six people in the theater for the "premiere" of this one at AMC Lake in the Hills; they didn't seem to care much either.
Oh yes, the plot. Two brothers attempt an impossible heist during the Coca Cola 600, (a NASCAR event) held at the Charlotte Motor Speedway. They recruit four others to help, including a prisoner from a nearby penal institution, who conveniently escapes to participate in this elaborate scheme, then sneaks back in providing a perfect alibi for himself. I will say that it took some highly creative thinking to come up with the plan to "vacuum" all the cash from the Speedway's receipts as the race is taking place. The potential "take" is more than quadrupled as the credit card system is disabled by our heroes, forcing the hard eating and drinking crowd to pay cash for all their goodies. Alas, the scattered script, which injected a number of meaningless scenes throughout, and the actors aforementioned lack of enthusiasm snuffs out any interest you might have as you watch it.
Logan Lucky
Entertainment Rating: ★1/2
Rating: PG-13: a handful of scattered profanities
Possible Oscar Nominations: None
The film's genre is listed as "comedy," a highly dubious decision, as there was only one five-second scene which could be considered remotely humorous, and that came toward the end. I was hoping since most of the action took place during the race, we would get a few minutes of some good old boy NASCAR racing. We were treated to a lovely version of God Bless America from a talented female singer just before the race started, after that maybe twenty seconds of actual racing. Since the robbery was taking place in the bowels and tunnels underneath the venue, we couldn't even hear the roar of the engines.
With that in mind, I will offer a bit of positive light for any of you who bothered to read this far. There are two very fine "under the radar" rentals I will comment on that we found entertaining:
The first Me Before You, 2016, P.G. 13. A young woman becomes a caregiver for a once freewheeling and successful young businessman who is struck by a car and ends up a quadriplegic. Horribly unhappy and miserable to be around, the young man slowly changes as she works her way into his life. Emelia Clark will work her way into your heart as well.
The Eagle Huntress, 2016, G. A fascinating look at the world of eagle hunters in the remote world of nomads living in Mongolia. Sound boring? It is not. These incredible survivors capture young eagles and train them to hunt for game. Our heroine, a teen, becomes the first female in the nation's history to capture and train her own. There are no professional actors, and you watch the girl and her family as they endure in this harsh land. The photography and vistas alone are worth your time, but the story is just different enough to distinguish this movie.