Scout's Honor
Jack Wirth was 12 years old on November 16, 1952, when he attended his first professional football game at Wrigley Field in Chicago.
The Los Angeles Rams, then a dominant professional team in pro football, beat the Chicago Bears, 40-24. Little did Jack know, however, that the event would shape his life, launch his career, and determine all of his future endeavors.
"The whole experience that day made me an NFL fan for life," Jack recalled. "The game and atmosphere were the most exciting things I'd ever experienced at age 12, and the most memorable. The sound, speed, and impact of the game filled my brain and my gut, and I was hooked on professional football. Ed Sprinkle, a Bear player, and Tank Younger, a star running back for the Rams, came together violently on one particular play, and made me aware of the violence that was the NFL. I had never experienced the sound or force of a tackle. Tank went down in a lot of pain. But he got back up and kept going.
The play made me think how dedicated these guys were to go through this every week. That was the day I knew that football would be the passion of my life."
Thirty years later, agent Jack Wirth was in an NFL office negotiating a player contract with Younger, who became a team executive.
This month, approaching its 100th year of operation, the National Football League is staging its annual post-season playoffs, leading to Super Bowl 52 in Minneapolis on February 4. This is a timely opportunity to tell Jack Wirth's story. It was compiled from many materials and documents Jack collected over his career, and from his own book, "Football Pioneer, Scout Agent Jack Wirth," published by Amazon in 2017.
Jack is a retired Sun Citian who translated that fateful day in 1952 into a 35-year career in the NFL – not as a player or coach, but as a scout and agent. He, along with others, pioneered many of the management and player-training techniques used successfully by all NFL teams today.
Jack's life and career give new meaning to the term, "self made man." He defied all of the so-called "conventional" career paths – college degrees, college football, start at the bottom of a team organization and work your way up. Jack grew up in Harvard, Illinois. He played three ears of high school football at Harvard High School but never attended college. He was in his 30s in the 1970s and tired of working in his brothers' construction business. He started writing letters to every NFL team and asked for a job as a scout. He told them he was good at, and enjoyed, evaluating football players and he wanted to do it in the National Football League.
For two years, teams rejected him, some even ridiculed him. Except one. Carroll Hardy, director of player personnel and scouting for the Denver Broncos, called Jack in 1973 and invited him to Denver. Hardy asked Jack to grade a group of college players for the upcoming draft. Jack evaluated two groups of players, and Hardy liked what he saw.
Jack worked five years as a Denver scout.
"Hardy told me later that he liked my idea of teams trading draft choices for future draft choices," Jack said. "It wasn't done much then but it is a common practice now."
"When I was a teenager, I started watching a lot of games on TV and grading 100 players each season," Jack recalled. "I was right on almost all of them, and that gave me confidence when I came to Denver."
At a pre-draft meeting in Denver, Bronco coach John Ralston asked Jack if he could find any prospects in the World Football League, which most teams didn't regard too highly. Jack attended a few games of the Chicago Fire, a minor league team operating near his hometown of Worth, Illinois.
He spotted Jack Dolbin, a semi-pro player from Pottstown, Pennsylvania. Jack was playing part-time for the Fire while attending chiropractic school. Jack was impressed and recommended that the Broncos sign him. On the first play of his first game as a pro player, Dolbin caught a short pass at his own 20-yard line and outraced all of the defenders for a 93-yard touchdown that won the game for Denver. Denver coaches were ecstatic and Dolbin went on to a successful seven-year pro career in Denver. Jack's career also took off.
In 1979, Jack decided to become an agent. Again, he went about it in an unorthodox way. He teamed with Art Arkush, publisher of Pro Football Weekly, a prominent sports publication, to form Pro football Associates (PFA), a firm based in Jack's basement in Worth. He persuaded prominent investors to back him financially, and he hired a staff that included legal and investment specialists.
But Jack didn't entice players with money, cars, and parties. He challenged them with hard work and discipline. Jack knew that all college prospects, while they had many skills, also had shortcomings. So Jack insisted that every player he represented commit to a rigorous physical examination and improvement program, months before training camp began.
"We evaluated them in strength, speed, flexibility, and agility to identify problem areas," Jack said. "Then we recommended training in the areas were they needed to improve. We saw this as a major part of representing athletes.
"We also looked at the intangibles that we saw in players – work ethic, character, competitiveness, coach-ability, intensity, discipline, and the desire to play the game."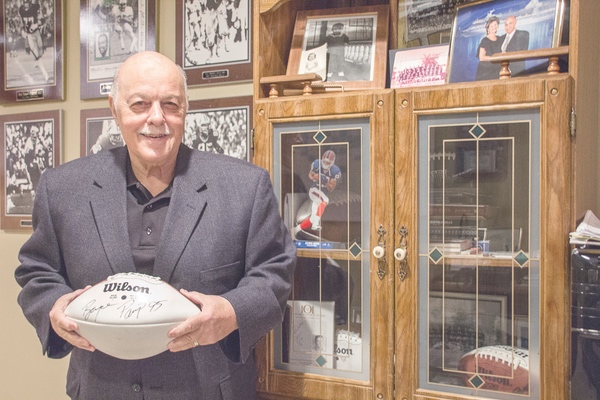 Jack's system led to major changes in the NFL's Combine, a pre-draft training session for scouts and coaches, and in many of the ways players are evaluated, trained, and fully prepared for a career in pro football.
Wirth prospered with PFA, became a respected and successful agent in the 80s and 90s. The late Joel Buchsbaum, former NFL journalist, once wrote of Wirth: "It is a sad commentary when one scout says of agent Jack Wirth, "I don't know how he survives. He knows football, he knows what it takes to play in the league, he is totally honest with his players, gets them in shape, trains them, and puts their interest above his own. Nobody that good has much of a chance in that (agency) business filled with sharks and con men."
In the next 32 years, PFA represented Andre Reed, Buffalo Bills wide receiver and Hall of of Famer; Charles Mann, Washington Redskins perennial all-pro defensive end; five other multi-year pro bowl players, one All-Canadian player, and sent more than 200 players to pro football in the NFL and Canada. He has been recognized as one of the top eight agents in his profession.
Jack now is retired but remains an avid fan and a cheerleader for his favorite team – the Bears. He has some strong feelings about the current state of things in Beardom, but that's another story for another time.
Comment on This Story